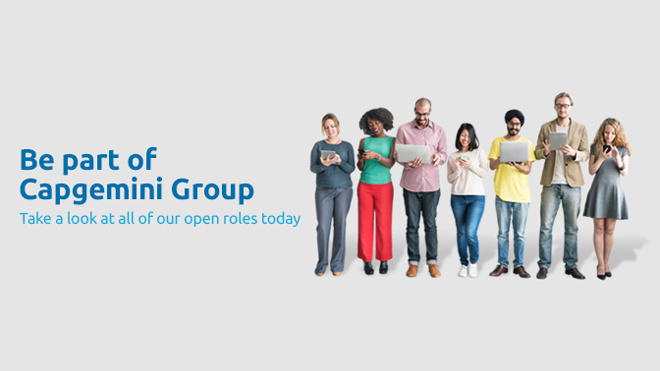 Search All Jobs
View all current career opportunities or search by keyword to find jobs that match your interests.
Cloud Infrastructure Jobs
No longer are massive single vendor infrastructure contracts the norm. The cloud is changing how IT infrastructure is procured and deployed. Our talented teams optimize our client's IT infrastructure for true business value by balancing flexibility and cost. Join the team that makes a difference!
Send me alerts every days
Search results for "". Page 1 of 4, Results 1 to 25
Job Title
Location
Windows (Cloud) Admin_2-4_years - Mumbai

Mumbai, MH, IN

Sep 21, 2019

0.00 mi

Cloud Infrastructure

Experienced (non-manager)

Permanent

MH

Mumbai-Windows-%28Cloud%29-Admin_2-4_years-Mumbai-MH

NetApp NAS and Block Series - 6 to 9 years- Bangalore

Bangalore, KA, IN

Sep 18, 2019

0.00 mi

Cloud Infrastructure

Experienced (non-manager)

Permanent

KA

Bangalore-NetApp-NAS-and-Block-Series-6-to-9-years-Bangalore-KA

AWS - 9 to 12 years - Bangalore

Bangalore, KA, IN

Sep 18, 2019

0.00 mi

Cloud Infrastructure

Experienced (non-manager)

Permanent

KA

Bangalore-Amazon-Web-services-Build-%2C-Administration-and-integration-9-to-12-years-Bangalore-KA

EMC VMAX - 6 to 9 - Bangalore

Bangalore, KA, IN

Sep 15, 2019

0.00 mi

Cloud Infrastructure

Experienced (non-manager)

Permanent

KA

Bangalore-EMC-VMAX-6-to-9-Bangalore-KA

Linux_4 to 6 years_Mumbai

Mumbai, MH, IN

Sep 15, 2019

0.00 mi

Cloud Infrastructure

Experienced (non-manager)

Permanent

MH

Mumbai-Linux_4-to-6-years_Mumbai-MH

AIX -4 to 6 years - Banglaore

Bangalore, KA, IN

Sep 14, 2019

0.00 mi

Cloud Infrastructure

Experienced (non-manager)

Permanent

KA

Bangalore-AIX-4-to-6-years-Banglaore-KA

EMC ISILON - 6 to 9 years - Bangalore

Bangalore, KA, IN

Sep 14, 2019

0.00 mi

Cloud Infrastructure

Experienced (non-manager)

Permanent

KA

Bangalore-EMC-ISILON-6-to-9-years-Bangalore-KA

EMC VNX - 4 to 6 years - Bangalore

Bangalore, KA, IN

Sep 14, 2019

0.00 mi

Cloud Infrastructure

Experienced (non-manager)

Permanent

KA

Bangalore-EMC-VNX-4-to-6-years-Bangalore-KA

EMC Networker - 6 to 9years - Hyderabad

Hyderabad, AP, IN

Sep 14, 2019

0.00 mi

Cloud Infrastructure

Experienced (non-manager)

Permanent

AP

Hyderabad-EMC-Networker-6-to-9years-Hyderabad-AP

Solaris - 4 to 6 years - Pune

Pune, MH, IN

Sep 14, 2019

0.00 mi

Cloud Infrastructure

Experienced (non-manager)

Permanent

MH

Pune-Solaris-4-to-6-years-Pune-MH

Red Hat OS Administration- 2 to 9 years - Mumbai

Mumbai, MH, IN

Sep 14, 2019

0.00 mi

Cloud Infrastructure

Experienced (non-manager)

Permanent

MH

Mumbai-Red-Hat-OS-Administration-2-to-9-years-Mumbai-MH

Nutanix NPP - 6 to 9 years - Mumbai

Mumbai, MH, IN

Sep 14, 2019

0.00 mi

Cloud Infrastructure

Experienced (non-manager)

Permanent

MH

Mumbai-Nutanix-NPP-6-to-9-years-Mumbai-MH

Linux - 6 to 9 years - Mumbai

Mumbai, MH, IN

Sep 14, 2019

0.00 mi

Cloud Infrastructure

Experienced (non-manager)

Permanent

MH

Mumbai-Linux-6-to-9-years-Mumbai-MH

Red Hat OS Administration- 2 to 9 years - Pune

Pune, MH, IN

Sep 14, 2019

0.00 mi

Cloud Infrastructure

Experienced (non-manager)

Permanent

MH

Pune-Red-Hat-OS-Administration-2-to-9-years-Pune-MH

Linux - 9 to 12 years - Mumbai

Mumbai, MH, IN

Sep 14, 2019

0.00 mi

Cloud Infrastructure

Experienced (non-manager)

Permanent

MH

Mumbai-Linux-9-to-12-years-Mumbai-MH

Imaging - 4 to 6 years - Mumbai

Mumbai, MH, IN

Sep 14, 2019

0.00 mi

Cloud Infrastructure

Experienced (non-manager)

Permanent

MH

Mumbai-Imaging-4-to-6-years-Mumbai-MH

HPC - 9 to 12 years - Mumbai

Mumbai, MH, IN

Sep 14, 2019

0.00 mi

Cloud Infrastructure

Experienced (non-manager)

Permanent

MH

Mumbai-HPC-9-to-12-years-Mumbai-MH

HPC - 9 to 12 years - Mumbai

Mumbai, MH, IN

Sep 14, 2019

0.00 mi

Cloud Infrastructure

Experienced (non-manager)

Permanent

MH

Mumbai-HPC-9-to-12-years-Mumbai-MH

HP 3PAR - 4 to 6years - Hyderabad

Hyderabad, AP, IN

Sep 14, 2019

0.00 mi

Cloud Infrastructure

Experienced (non-manager)

Permanent

AP

Hyderabad-HP-3PAR-4-to-6years-Hyderabad-AP

Rubrik - 6 to 9 years - Mumbai

Mumbai, MH, IN

Sep 14, 2019

0.00 mi

Cloud Infrastructure

Experienced (non-manager)

Permanent

MH

Mumbai-Rubrik-6-to-9-years-Mumbai-MH

HPUX Admin_6 to 9 years_Mumbai

Mumbai, MH, IN

Sep 14, 2019

0.00 mi

Cloud Infrastructure

Experienced (non-manager)

Permanent

MH

Mumbai-HPUX-Admin_6-to-9-years_Mumbai-MH

HP 3PAR - 4 to 6years - Bangalore

Bangalore, KA, IN

Sep 14, 2019

0.00 mi

Cloud Infrastructure

Experienced (non-manager)

Permanent

KA

Bangalore-HP-3PAR-4-to-6years-Bangalore-KA

Imaging- 6 to 9 years - Mumbai

Mumbai, MH, IN

Sep 14, 2019

0.00 mi

Cloud Infrastructure

Experienced (non-manager)

Permanent

MH

Mumbai-Imaging-6-to-9-years-Mumbai-MH

HP 3PAR - 4 to 6years - Hyderabad

Hyderabad, AP, IN

Sep 14, 2019

0.00 mi

Cloud Infrastructure

Experienced (non-manager)

Permanent

AP

Hyderabad-HP-3PAR-4-to-6years-Hyderabad-AP

EMC Networker - 4 to 6 years - Hyderabad

Hyderabad, AP, IN

Sep 14, 2019

0.00 mi

Cloud Infrastructure

Experienced (non-manager)

Permanent

AP

Hyderabad-EMC-Networker-4-to-6-years-Hyderabad-AP