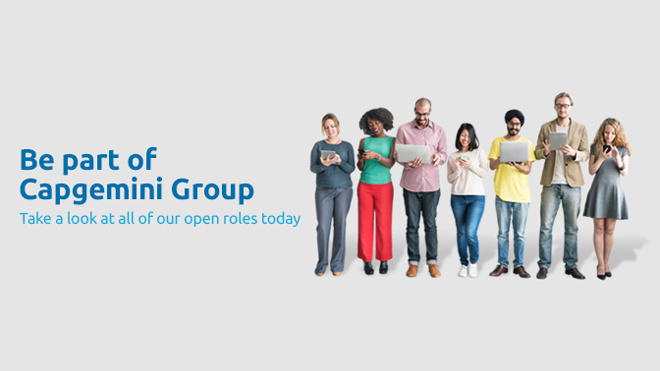 Search All Jobs
View all current career opportunities or search by keyword to find jobs that match your interests.
Corporate Function Jobs
You enjoy a challenge? You have a thirst for knowledge and a desire to be one of the best? At Capgemini, we draw on each other's capacities and experiences, to inspire and motivate one another. Our enabling functions such as HR, marketing, finance, legal, facilities are decisive to bring success to every part of Capgemini. Join the collaborative business experience.
Send me alerts every days
Search results for "". Page 1 of 3, Results 1 to 25
Job Title
Location
SOC

Mumbai, MH, IN

Sep 21, 2019

0.00 mi

Corporate Function

Experienced (non-manager)

Permanent

MH

Mumbai-SOC-MH

Senior Finance Professional

West Midlands, SHR, GB

Sep 19, 2019

0.00 mi

Corporate Function

Experienced Professional

Permanent Full Time

SHR

West-Midlands-Senior-Finance-Professional-SHR

Operational Excellence Data Analytics Lead

Bangalore, KA, IN

Sep 16, 2019

0.00 mi

Corporate Function

Experienced (non-manager)

Permanent

KA

Bangalore-Operational-Excellence-Data-Analytics-Lead-KA

HR Business Partner

Pune, MH, IN

Sep 13, 2019

0.00 mi

Corporate Function

Experienced (non-manager)

Permanent

MH

Pune-HR-Business-Partner-MH

Backfill - Swapnil Uttam Tapal - Mumbai

Mumbai, MH, IN

Sep 12, 2019

0.00 mi

Corporate Function

Entry level / Graduate

Permanent

MH

Mumbai-Backfill-Swapnil-Uttam-Tapal-Mumbai-MH

Tier 1 Bangalore - Deepti N

Bangalore, KA, IN

Sep 12, 2019

0.00 mi

Corporate Function

Entry level / Graduate

Permanent

KA

Bangalore-Tier-1-Bangalore-Deepti-N-KA

HR Business Partner

Mumbai, MH, IN

Sep 12, 2019

0.00 mi

Corporate Function

Experienced (non-manager)

Permanent

MH

Mumbai-HR-Business-Partner-MH

Manager - Press relation

Mumbai, MH, IN

Sep 12, 2019

0.00 mi

Corporate Function

Experienced (non-manager)

Permanent

MH

Mumbai-Manager-Press-relation-MH

Education Coordinator

Gurgaon, HR, IN

Sep 12, 2019

0.00 mi

Corporate Function

Experienced (non-manager)

Permanent

HR

Gurgaon-Education-Coordinator-HR

Client Service Executive - Bangalore - Senior Analyst

Bangalore, KA, IN

Sep 12, 2019

0.00 mi

Corporate Function

Experienced (non-manager)

Permanent

KA

Bangalore-Client-Service-Executive-Bangalore-Senior-Analyst-KA

2001856 - COR - Ghurghure, Shanteshwar M

Mumbai, MH, IN

Sep 12, 2019

0.00 mi

Corporate Function

Entry level / Graduate

Permanent

MH

Mumbai-2001856-COR-Ghurghure%2C-Shanteshwar-M-MH

Analytic and Reporting Lead - Bangalore - Nagotkar, Nikita

Bangalore, KA, IN

Sep 12, 2019

0.00 mi

Corporate Function

Experienced (non-manager)

Permanent

KA

Bangalore-Analytic-and-Reporting-Lead-Bangalore-Nagotkar%2C-Nikita-KA

City Service Delivery Head - Noida

Noida, UP, IN

Sep 12, 2019

0.00 mi

Corporate Function

Manager

Permanent

UP

Noida-City-Service-Delivery-Head-Noida-UP

DEMS Compentency Development Team - Lead L&D Manager

Mumbai, MH, IN

Sep 12, 2019

0.00 mi

Corporate Function

Experienced (non-manager)

Permanent

MH

Mumbai-DEMS-Compentency-Development-Team-Lead-L&D-Manager-MH

HR Operations - Kolkata

Bangalore, WB, IN

Sep 12, 2019

0.00 mi

Corporate Function

Entry level / Graduate

Permanent

WB

Bangalore-HR-Operations-Kolkata-WB

Security Consultant - Cyber Security

Bangalore, KA, IN

Sep 12, 2019

0.00 mi

Corporate Function

Experienced (non-manager)

Permanent

KA

Bangalore-Security-Consultant-Cyber-Security-KA

3 Nos C1 & 2 for C2 for RPA (N G Rajiv)

Mumbai, MH, IN

Sep 12, 2019

0.00 mi

Corporate Function

Experienced (non-manager)

Permanent

MH

Mumbai-3-Nos-C1-&-2-for-C2-for-RPA-%28N-G-Rajiv%29-MH

Client Service Executive

Bangalore, KA, IN

Sep 12, 2019

0.00 mi

Corporate Function

Experienced (non-manager)

Permanent

KA

Bangalore-Client-Service-Executive-KA

Immigration Specilaist

Hyderabad, AP, IN

Sep 12, 2019

0.00 mi

Corporate Function

Experienced (non-manager)

Permanent

AP

Hyderabad-Immigration-Specilaist-AP

Data Analytics

Mumbai, MH, IN

Sep 12, 2019

0.00 mi

Corporate Function

Experienced (non-manager)

Permanent

MH

Mumbai-Data-Analytics-MH

Recruiter sourcer hiring

Bangalore, MH, IN

Sep 12, 2019

0.00 mi

Corporate Function

Experienced (non-manager)

Permanent

MH

Bangalore-Recruiter-sourcer-hiring-MH

2001837 - CIS Contractor Roles to Shiv Shukla

Bangalore, KA, IN

Sep 12, 2019

0.00 mi

Corporate Function

Entry level / Graduate

Permanent

KA

Bangalore-2001837-CIS-Contractor-Roles-to-Shiv-Shukla-KA

Recruiter sourcer hiring

Mumbai, MH, IN

Sep 12, 2019

0.00 mi

Corporate Function

Experienced (non-manager)

Permanent

MH

Mumbai-Recruiter-sourcer-hiring-MH

L & D Admin Process Associate

Bangalore, MH, IN

Sep 11, 2019

0.00 mi

Corporate Function

Experienced (non-manager)

Permanent

MH

Bangalore-L-&-D-Admin-Process-Associate-MH

PMO

Mumbai, MH, IN

Sep 11, 2019

0.00 mi

Corporate Function

Experienced (non-manager)

Permanent

MH

Mumbai-PMO-MH