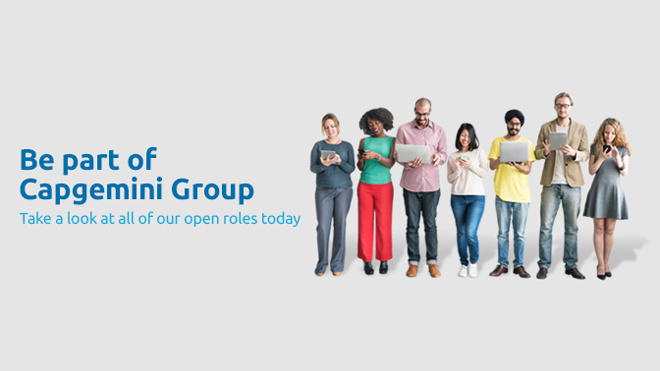 Search All Jobs
View all current career opportunities or search by keyword to find jobs that match your interests.
Leadership Jobs
Do you have what it takes to make an impact at a global scale? Are you keen on exploring new avenues to accelerate your career? If yes, Capgemini offers you opportunities at a global scale along with a commitment to work-life balance, performance recognition and career flexibility. As a leader, Capgemini offers you the opportunity to work on global assignments / projects for our leading clients — Fortune 500 & CAC40 companies.
Watch jobs in this category

There are currently no open positions matching this category or location.
Receive emails by subscribing to jobs matching Leadership Jobs when they are posted.
The 10 most recent jobs posted by Capgemini are listed below for your convenience.
Results 1 – 10 of 10
Page 1 of 1
Search results for "". Page 1 of 1, Results 1 to 10
Job Title
Location
Selenium Test Analyst - 2 to 4 Yrs - Bangalore

Bangalore, KA, IN

Sep 22, 2019

0.00 mi

Experienced (non-manager)

Permanent

KA

Bangalore-Selenium-Test-Analyst-2-to-4-Yrs-Bangalore-KA

Salesforce Business Analyst/Salesforce Functional Lead

New York, NY, US

Sep 22, 2019

0.00 mi

Experienced (non-manager)

Permanent Full Time

NY

New-York-Salesforce-Business-AnalystSalesforce-Functional-Lead-NY

Azure IOT Architect-- 9-12yrs-- Mumbai

Mumbai, MH, IN

Sep 22, 2019

0.00 mi

Experienced (non-manager)

Permanent

MH

Mumbai-Azure-IOT-Architect-9-12yrs-Mumbai-MH

Java Developer - 2 to 4 Years - Chennai

Chennai, TN, IN

Sep 22, 2019

0.00 mi

Software Development

Experienced (non-manager)

Permanent

TN

Chennai-Java-Developer-2-to-4-Years-Chennai-TN

Lead Workflow Developer

Massachusetts, MA, US

Sep 22, 2019

0.00 mi

Experienced (non-manager)

Permanent Full Time

MA

Massachusetts-Senior-Software-Engineer-MA

Elastic Search - 4 to 6 Years - Mumbai location

Mumbai, MH, IN

Sep 22, 2019

0.00 mi

Insights & Data

Experienced (non-manager)

Permanent

MH

Mumbai-Elastic-Search-4-to-6-Years-Mumbai-location-MH

HR Business Partner / Pune / 2-4years

Pune, MH, IN

Sep 22, 2019

0.00 mi

Experienced (non-manager)

Permanent

MH

Pune-HR-Business-Partner-Pune-2-4years-MH

Knowledge Management / Banagalore / 6-9years

Bangalore, KA, IN

Sep 22, 2019

0.00 mi

Experienced (non-manager)

Permanent

KA

Bangalore-Knowledge-Management-Bangalore-6-9years-KA

SFDC Vlocity Developer - Mumbai / Bangalore

Bangalore, KA, IN

Sep 22, 2019

0.00 mi

Experienced (non-manager)

Permanent

KA

Bangalore-SFDC-Vlocity-Developer-Mumbai-Bangalore-KA

Business Objects_2to4years_Mumbai

Mumbai, MH, IN

Sep 22, 2019

0.00 mi

Experienced (non-manager)

Permanent

MH

Mumbai-Business-Objects_2to4years_Mumbai-MH