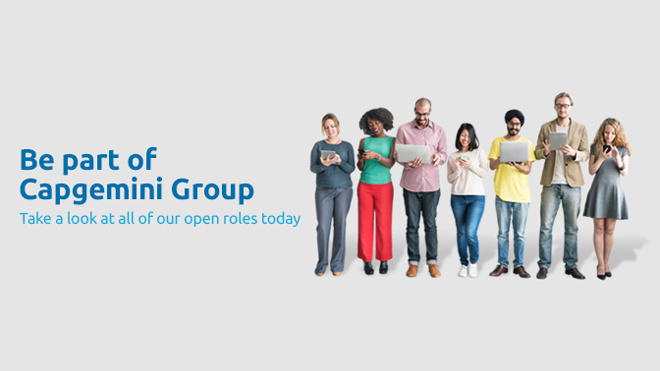 Search All Jobs
View all current career opportunities or search by keyword to find jobs that match your interests.
Project Management Jobs
The solutions we deliver have a truly transformational impact on our clients' organizations. This, together with the shift away from large-scale outsourcing to more project-based work, plus the rise of disruptive new technologies, including the Cloud, means the demand for expertise in this area is greater than ever before.
Send me alerts every days
Search results for "". Page 1 of 34, Results 1 to 25
Job Title
Location
Salesforce Business Analyst/Salesforce Functional Lead

New York, NY, US

Sep 22, 2019

0.00 mi

Experienced (non-manager)

Permanent Full Time

NY

New-York-Salesforce-Business-AnalystSalesforce-Functional-Lead-NY

Azure IOT Architect-- 9-12yrs-- Mumbai

Mumbai, MH, IN

Sep 22, 2019

0.00 mi

Experienced (non-manager)

Permanent

MH

Mumbai-Azure-IOT-Architect-9-12yrs-Mumbai-MH

HR Business Partner / Pune / 2-4years

Pune, MH, IN

Sep 22, 2019

0.00 mi

Experienced (non-manager)

Permanent

MH

Pune-HR-Business-Partner-Pune-2-4years-MH

SFDC Vlocity Developer - Mumbai / Bangalore

Bangalore, KA, IN

Sep 22, 2019

0.00 mi

Experienced (non-manager)

Permanent

KA

Bangalore-SFDC-Vlocity-Developer-Mumbai-Bangalore-KA

Chargé de Marketing H/F

Île-de-France, J, FR

Sep 22, 2019

0.00 mi

Etudiant

Stage

J

%C3%8Ele-de-France-Charg%C3%A9-de-Marketing-HF-J

HR Business partner / Chennai / 4-6years

Chennai, TN, IN

Sep 22, 2019

0.00 mi

Experienced (non-manager)

Permanent

TN

Chennai-HR-Business-partner-Chennai-4-6years-TN

Java Technical Architect ( Security + Framework)

Pune, MH, IN

Sep 22, 2019

0.00 mi

Manager

Permanent

MH

Pune-Java-Technical-Architect-%28-Security-%2B-Framework%29-MH

Ingénieur d'Etudes Mécaniques H/F

Auvergne-Rhône-Alpes, 69, FR

Sep 22, 2019

0.00 mi

1 à 3 ans

CDI

69

Auvergne-Rh%C3%B4ne-Alpes-Ing%C3%A9nieur-calcul-HF-69

Test Analyst (Cards) - 2 to 4 yrs - Chennai

Chennai, TN, IN

Sep 22, 2019

0.00 mi

Experienced (non-manager)

Permanent

TN

Chennai-Test-Analyst-%28Cards%29-2-to-4-yrs-Chennai-TN

Hadoop Developer- 6 to 8 Years-Chennai

Chennai, TN, IN

Sep 22, 2019

0.00 mi

Experienced (non-manager)

Permanent

TN

Chennai-Hadoop-Developer-6-to-8-Years-Chennai-TN

Technical writer/Author/illustrator - AMM/IPC/WDM/SRM - 1 to 8 Years - Bangalore

Bangalore, KA, IN

Sep 22, 2019

0.00 mi

Experienced (non-manager)

Permanent

KA

Bangalore-Software-Analysis-Lead-KA

Ab Initio developer

New Jersey, NJ, US

Sep 22, 2019

0.00 mi

Experienced (non-manager)

Permanent Full Time

NJ

New-Jersey-Ab-Initio-developer-NJ-07097

Proactive Java

Bangalore, KA, IN

Sep 22, 2019

0.00 mi

Experienced (non-manager)

Permanent

KA

Bangalore-Proactive-Java-KA

Sharepoint Developer/Online-4 to 6 yrs - Mumbai

Mumbai, MH, IN

Sep 22, 2019

0.00 mi

Experienced (non-manager)

Permanent

MH

Mumbai-Sharepoint-DeveloperOnline-4-to-6-yrs-Mumbai-Bangalore-MH

Développeur Full Stack (H/F)

Occitanie, N, FR

Sep 22, 2019

0.00 mi

Software Development

3 à 6 ans

CDI

N

Occitanie-D%C3%A9veloppeur-Full-Stack-%28HF%29-N

Développeur Full Stack confirmé - Orléans H/F

Centre-Val de Loire, J, FR

Sep 22, 2019

0.00 mi

0

3 à 6 ans

CDI

J

%C3%8Ele-de-France-D%C3%A9veloppeur-Full-Stack-confirm%C3%A9-Orl%C3%A9ans-HF-J

Business Research

Bangalore, KA, IN

Sep 22, 2019

0.00 mi

Experienced (non-manager)

Permanent

KA

Bangalore-Business-Research-KA

Static - Stress Engineer - 2 to 12 years - Bangalore

Bangalore, KA, IN

Sep 22, 2019

0.00 mi

Experienced (non-manager)

Permanent

KA

Bangalore-Static-Stress-Engineer-2-to-12-years-Bangalore-KA

Test Environment Management - 4 to 6 yrs - Pune

Hyderabad, MH, IN

Sep 22, 2019

0.00 mi

Experienced (non-manager)

Permanent

MH

Hyderabad-Test-Environment-Management-4-to-6-yrs-Pune-MH

Talend Developer

North Carolina, NC, US

Sep 22, 2019

0.00 mi

Experienced (non-manager)

Permanent Full Time

NC

North-Carolina-Software-Engineer-NC

SAP BODS developer - 4 to 6 years - Pune

Pune, MH, IN

Sep 22, 2019

0.00 mi

Experienced (non-manager)

Permanent

MH

Pune-SAP-BODS-developer-4-to-6-years-Pune-MH

Informatica Administrator

California, CA, US

Sep 22, 2019

0.00 mi

Experienced (non-manager)

Permanent Full Time

CA

California-Informatica-Administrator-CA-93504

CONSULTANT BUSINESS INTELLIGENCE_H/F_STRASBOURG

Grand Est, A, FR

Sep 22, 2019

0.00 mi

Software Development

3 à 6 ans

CDI

A

Grand-Est-CONSULTANT-BUSINESS-INTELLIGENCE_HF_STRASBOURG-A

Client Partner / Account Manager, Banking

North East, LND, GB

Sep 22, 2019

0.00 mi

Experienced Professional

Permanent

LND

North-East-Client-Partner-Account-Manager%2C-Banking-LND

Fullstack Developer_6 to 9 Years_ Chennai

Chennai, TN, IN

Sep 22, 2019

0.00 mi

Experienced (non-manager)

Permanent

TN

Chennai-Fullstack-Developer_6-to-9-Years_-Chennai-TN