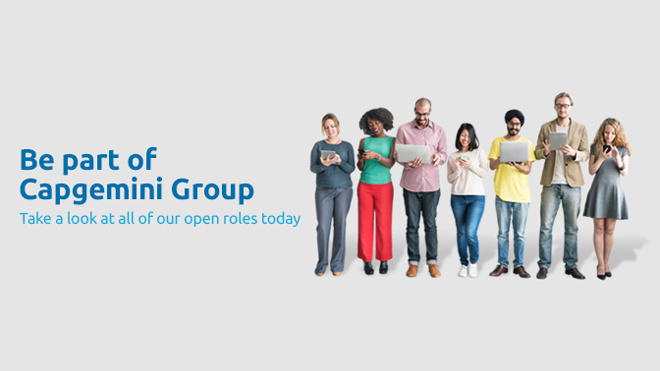 Search All Jobs
View all current career opportunities or search by keyword to find jobs that match your interests.
Software Development Jobs
Capgemini draws on over 40 years of applications expertise to offer comprehensive Application Lifecycle Services including custom software development. If you are looking to grow your career in software programming technologies like Java, Microsoft, your search ends here.
Send me alerts every days
Search results for "". Page 1 of 23, Results 1 to 25
Job Title
Location
Java Developer - 2 to 4 Years - Chennai

Chennai, TN, IN

Sep 22, 2019

0.00 mi

Software Development

Experienced (non-manager)

Permanent

TN

Chennai-Java-Developer-2-to-4-Years-Chennai-TN

Java Technical Architect ( Security + Framework)

Pune, MH, IN

Sep 22, 2019

0.00 mi

Manager

Permanent

MH

Pune-Java-Technical-Architect-%28-Security-%2B-Framework%29-MH

.Net Developer and SQL / SSIS Development

Gandhinagar, GJ, IN

Sep 21, 2019

0.00 mi

Software Development

Experienced (non-manager)

Permanent

GJ

Gandhinagar-Techno-Func-Associate-GJ

Java Technical Lead (Spring & Restful) - 6 to 12 Years - Chennai

Chennai, TN, IN

Sep 21, 2019

0.00 mi

Software Development

Experienced (non-manager)

Permanent

TN

Chennai-Java-Developer-%28Spring-&-Restful%29-6-to-9-Years-Chennai-TN

GE Proficy MES Engineer

Bangalore, KA, IN

Sep 21, 2019

0.00 mi

Software Development

Experienced (non-manager)

Permanent

KA

Bangalore-Software-Engineer-KA

Full Stack Developer (Angular JS + Java) - 2 to 4 YRS - Pune

Pune, MH, IN

Sep 21, 2019

0.00 mi

Experienced (non-manager)

Permanent

MH

Pune-Full-Stack-Developer-%28Angular-JS-%2B-Java%29-2-to-4-YRS-Pune-MH

Java Developer - 2 to 4 Years - Hyderabad

Hyderabad, AP, IN

Sep 20, 2019

0.00 mi

Software Development

Experienced (non-manager)

Permanent

AP

Hyderabad-Java-Developer-2-to-4-Years-Hyderabad-AP

Mulesoft Development Lead - 6 yrs to 9 yrs - Bangalore / Hyderabad / Mumbai

Bangalore, KA, IN

Sep 20, 2019

0.00 mi

Software Development

Experienced (non-manager)

Permanent

KA

Bangalore-Software-Engineer-KA

Java Fullstack_Chennai_( 4-9 yrs)

Chennai, TN, IN

Sep 20, 2019

0.00 mi

Software Development

Experienced (non-manager)

Permanent

TN

Chennai-Java-Spring-Hibernate_Chennai_%28-2-6-yrs%29-TN

PLSQL Dev- Lead/Manager - Bangalore

Bangalore, KA, IN

Sep 20, 2019

0.00 mi

Software Development

Manager

Permanent

KA

Bangalore-Software-Engineer-Lead-KA

Informatica Developer - 4 to 6 Years - Mumbai

Mumbai, MH, IN

Sep 20, 2019

0.00 mi

Software Development

Experienced (non-manager)

Permanent

MH

Mumbai-Informatica-Developer-4-to-6-Years-Mumbai-MH

Devops Developer 4 yrs to 6 yrs Bangalore -

Bangalore, KA, IN

Sep 20, 2019

0.00 mi

Software Development

Experienced (non-manager)

Permanent

KA

Bangalore-Devops-Developer-4-yrs-to-6-yrs-Bangalore-KA

Informatica Developer - 2.5 to 4 Years - Mumbai

Mumbai, MH, IN

Sep 20, 2019

0.00 mi

Software Development

Experienced (non-manager)

Permanent

MH

Mumbai-Informatica-Developer-2_5-to-4-Years-Mumbai-MH

Python DevOps 4 to 6 years

Bangalore, KA, IN

Sep 19, 2019

0.00 mi

Software Development

Experienced (non-manager)

Permanent

KA

Bangalore-Python-DevOps-4-to-6-years-KA

Solution Architect - Mumbai

Mumbai, MH, IN

Sep 19, 2019

0.00 mi

Insights & Data

Entry level / Graduate

Permanent

MH

Mumbai-Solution-Architect-Mumbai-MH

Actimize Development and Support- Hyderabad

Hyderabad, AP, IN

Sep 19, 2019

0.00 mi

Insights & Data

Experienced (non-manager)

Permanent

AP

Hyderabad-Actimize-Development-and-Support-Hyderabad-AP

Java Developer (Spring & Restful) - 4 to 6 Years - Chennai

Chennai, TN, IN

Sep 19, 2019

0.00 mi

Software Development

Experienced (non-manager)

Permanent

TN

Chennai-Java-Developer-%28Spring-&-Restful%29-4-to-6-Years-Chennai-TN

Java Developer (Spring / Spring Boot & Restful) - 6 to 9 Years - Chennai

Chennai, TN, IN

Sep 19, 2019

0.00 mi

Software Development

Entry level / Graduate

Permanent

TN

Chennai-Java-Developer-%28Spring-Spring-Boot-&-Restful%29-6-to-9-Years-Chennai-TN

GoLang Developer / Sr Developer 4 yrs to 6 yrs Bangalore

Bangalore, KA, IN

Sep 19, 2019

0.00 mi

Software Development

Experienced (non-manager)

Permanent

KA

Bangalore-GolangEngineer_Bangalore-KA

Java Developer - 6 to 9 Years - Chennai

Chennai, TN, IN

Sep 19, 2019

0.00 mi

Software Development

Experienced (non-manager)

Permanent

TN

Chennai-Java-Developer-6-9-years-_-Chennai-TN

PMO _ 4 to 6 Years _ Hyderabad

Hyderabad, AP, IN

Sep 19, 2019

0.00 mi

Software Development

Experienced (non-manager)

Permanent

AP

Hyderabad-PMO-_-4-to-6-Years-_-Hyderabad-AP

Automation Testing _ 4 to 6 years _ Hyderabad Location

Hyderabad, AP, IN

Sep 19, 2019

0.00 mi

Software Development

Experienced (non-manager)

Permanent

AP

Hyderabad-Automation-Testing-_-4-to-6-years-_-Hyderabad-Location-AP

Software Analyst

Hyderabad, AP, IN

Sep 19, 2019

0.00 mi

Software Development

Experienced (non-manager)

Permanent

AP

Hyderabad-Software-Analyst-AP

Software Engineer

Bangalore, KA, IN

Sep 19, 2019

0.00 mi

Software Development

Experienced (non-manager)

Permanent

KA

Bangalore-Software-Engineer-KA

Java Developer _ 4 to 6 years _ Chennai Location

Chennai, TN, IN

Sep 19, 2019

0.00 mi

Software Development

Experienced (non-manager)

Permanent

TN

Chennai-Java-Developer-_-4-to-6-years-_-Chennai-Location-TN